Intex Pools Online
Intex Pools have become a very popular range of high quality, low cost swimming pools from Intex which are very easy to assemble and great fun for all the summer. All you do is simply spread out the pool liner on level ground which has no sharp objects such as a stones or twigs, then inflate the top ring which allows water to fill the intex pool so very very easy! These superb fun pools hold between 639 amd 5,894 gallons of water. The intex swimming pools are made from high quality re-enforced PVC.
Hurry While Stocks Last! When they are gone, they are gone!
Due to the hot weather, all Intex Pool retailers are running out fast! so make sure you buy your pool before they are gone. All prices at Madfun have
HUGE!
savings!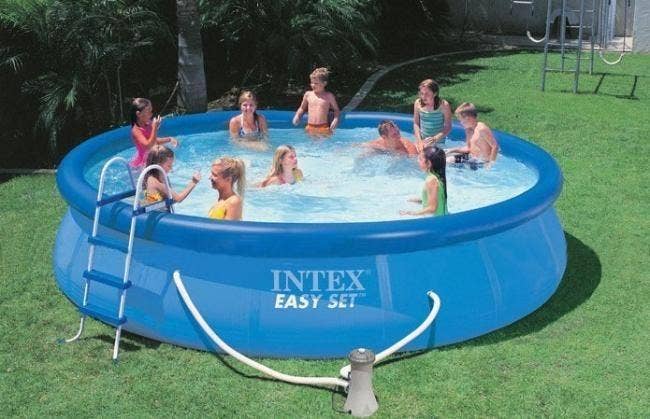 ---
All of the pools in the Intex Easy Set Swimming Pools range can be ready for water in under 30 minutes. In most cases, you'll be swimming the same day, soon after you buy it! The Intex Easy Set Pools come in many sizes which include 8 feet to 18 feet in diameter, as well as 30 inches to 52 inches in height.
The Intex Easy Set Pool is fast and easy to set up. You simply fill the top ring with air, straighten the bottom lining and fill with water. The water pressure of the water entering the ring means the sides to rise. Intex pools should be layed on perfectly level ground away from bushes, tress and shrubs but level ground is most important or the pool will not fill correctly. You will find the sides will bow out and the water level will be lopsided If the pool is not on level ground.
As well as Intex Easy Set pools, the intex metal frame pools are extremely popular which give you fun in a very sturdy pool which can hold many people and snaps together very easily so can be up and ready for filling within the hour. Again as with the easy set intex pools, make sure the intex swimming pool is positioned on level ground to avoid lop sided water and bowing
The pool package below includes a huge number of accessories to assist in cleaning and protect your pool, see full list below. Fantastic value, these Easy Set Pools can be installed, ready for filling within 10 minutes. The intex pools are made from high quality re-enforced PVC.
---
Looking After Intex Pools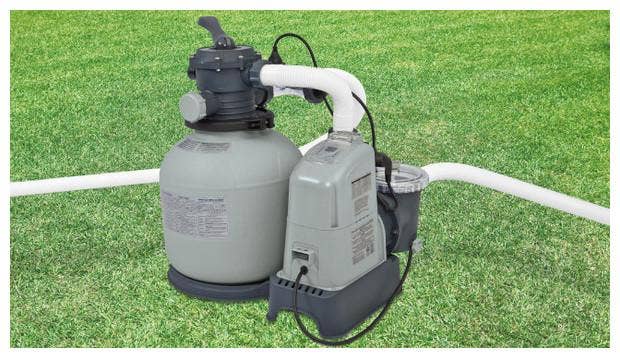 For Pool Maintenance and to keep the water clean there are three main things to bear in mind.
1. Smaller items of debris. For this our intex pools come with a filter pump which does a good job of filtering these smaller items out of the pool.
2. Larger items such as leaves, twigs, grass to be kept out the water. To help with this we see it as essential to keep the pool covered while not in use, because of this we supply a free Intex Pool Debris Cover with every intex pool.
3. Chemical Treatment. For this we offer a starter chemical pack at just £32.99 (usually £44.99) with your pool.
---
An example of a popular intex pool - You can view this particular pool here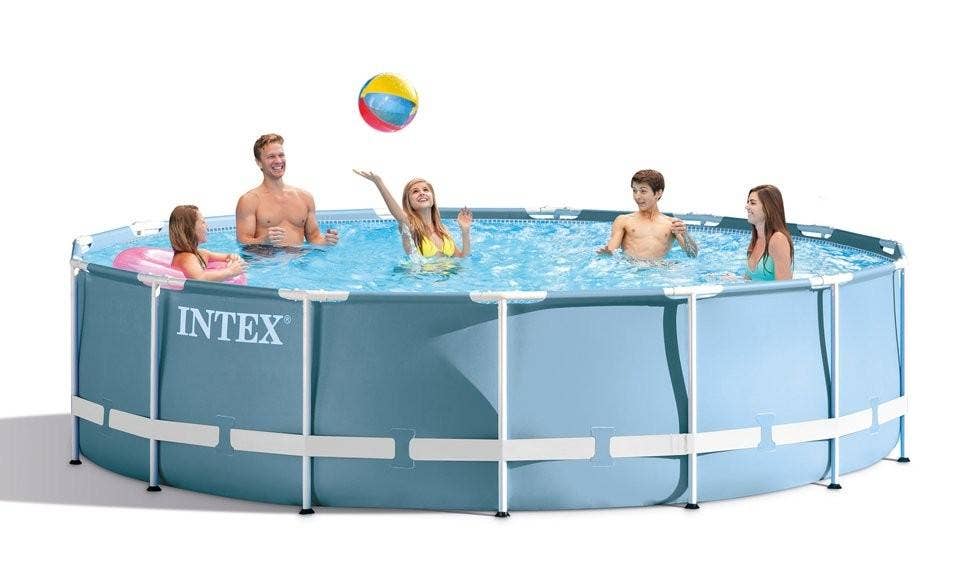 Specifications of the Intex 15ft x 48" Prism Frame™ Above Ground Swimming Pool with Filter Pump and Accessories (26736)
Diameter: 15' (457cm)
Height: 48" (122cm)
Included in our deluxe package offer:-

Instructional DVD
220-240 volt filter pump (799gal or 3,028 L/hr)
15ft pool cover
Pool ladder
Ground cloth